Self-care is Good Care

Meredith Wong,
Manager of Connect2culture®
---
Caring for a family member living with dementia can be emotionally and physically draining. Caregivers rarely identify as caregivers and often don't recognize that they too need care and support. Also, caregivers can become lost in the demands and responsibilities of caring for someone else so intensely that they neglect their own well-being.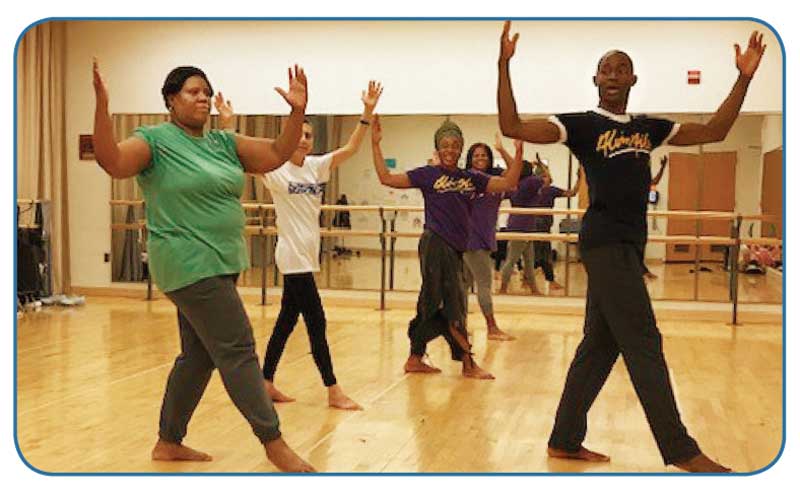 Several opportunities have been created by cultural organizations in New York City – Ailey Arts in Education's AileyDance Workshops for Caregivers, The Rubin Museum of Art's Empowering Caregivers: Mindful Tours, Conversation, and Community, and the Intrepid Sea, Air & Space Museum's Caregiver Appreciation events. These pilot programs, offered in partnership with CaringKind's connect2culture program, are initiatives that address the need for engaging cultural activities where caregivers can enjoy themselves, connect with others in similar circumstances, and re-energize body, mind, and spirit. Led by teaching artists and instructors who have been trained by connect2culture staff, these programs encourage caregivers to focus on their emotional and physical health. Free for all participants, AileyDance Workshops, Empowering Caregivers and the Caregiver Appreciation programs provide a necessary break, building informal support networks and enduring friendships.
Recognition of the need for these programs continues to develop as connect2culture reaches out to cultural organizations across the five boroughs. For additional information about these and other programs, please go to our website at caringkindnyc.org/connect2culture or call our Helpline at 646-744-2900.
Visit our Connect2Culture® page for a full list of partners and activities.