What to Consider After a Diagnosis of Alzheimer's Disease

Paula Rice,
Manager of African American Outreach
---
Many caregivers are at a loss after a family member is given a diagnosis of Alzheimer's disease or a related dementia. Every person with dementia's situation is unique; there is no standardized care plan. So, what are the family's care options?

When I was a caregiver for my mom, I sought out the services of Caringkind (formerly the Alzheimer's Association, NYC Chapter) to determine the best care options for her. We settled on the Adult Day Care Model. This model is a structured program that provides functionally impaired adults with socialization, supervision, personal care and nutrition in a protective setting. Arts and crafts, cognitive stimulation, exercise and music are some of the activities offered. Breakfast and lunch are served as well and many offer transportation services.My mom thrived in this environment and it also offered respite for me.

I encourage you to contact CaringKind's Helpline and speak to one of our Social Workers to help determine the appropriate care plan for your family. You can reach us at 646-744-2900, anytime of the day or night.
Chinese Advisory Board

Weijing Shi,
Manager of Chinese Outreach
---
The first of CaringKind's Chinese Advisory Board meetings was held on Thursday, June 27, at the CaringKind office. The purpose of the advisory board is to have a variety of Chinese community leaders, partners and professionals provide external advice, consultation and involvement in the CaringKind Chinese Outreach Program. These leaders include representatives from different community senior services, faith-based organizations, hospitals, health care and home care organizations, nursing and social work schools, and family caregiver representatives.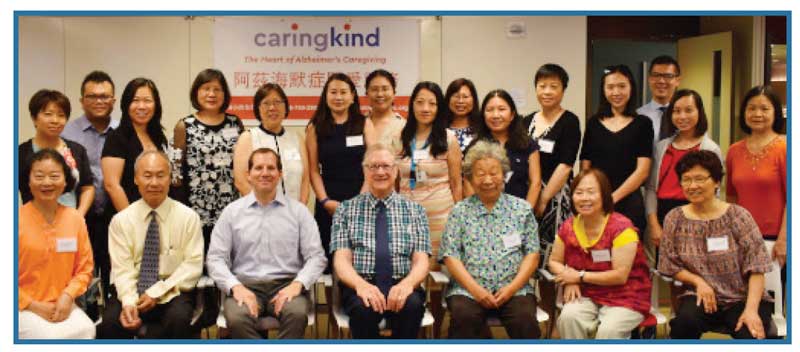 The Board will advise on Chinese Alzheimer's community issues, caregiver support and engagement, information, unmet needs, and programing and planning, in order to increase awareness
of dementia and better promote CaringKind's Chinese programs and services. Together we hope to improve the quality of care for Chinese individuals and families affected by Alzheimer's disease and related dementias. The Advisory Board members will meet on the fourth Thursday of every four months.