Jed A. Levine
President & CEO
---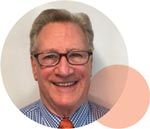 Dear Readers,
Dear Reader,
While dementia care is challenging and exhausting, there are moments of joy, connection and hope that there will soon be effective treatments. But CaringKind believes that hope is not a plan. While we advocate for and support research, our focus remains care. In Dementia Reimagined, Tia Powell, MD explains, "Here is where I, in my role as Debbie Downer MD, must remind you that 99.6% of experimental drugs to treat Alzheimer's fail... This problem is not going away. When we focus excessively on cure we undermine care.
You can view the Lorraine Halis Lecture on the Arts & Science of Caregiving with Dr. Powell and me online at www.caringkindnyc.org/caregivinglecture.
CaringKind supports caregivers by building a foundation of knowledge and emotional support. Our caregivers have access to both the rich resources of CaringKind and the assets of our community partners. Clients express appreciation for the guidance, education, skills and, most of all, for a staff that is never judgmental, always comforting and truly understands dementia caregiving challenges.
Whether on the Helpline, in a Social Work consultation, in a Family Caregiver Workshop or in a support group, it's healing to talk. And talk comes with a range of emotions: love, resentment, anger, sadness, grief, amusement, confusion, or simply fatigue. Caregivers experience it all – sometimes at the same time. One moment you are the soul of patience, and then you reach the end of your rope and explode in frustration.
A caregiver's mother returned home after 36 hours of wandering. The caregiver was distraught. "Why are you crying? Why are you so upset?" his mother asked. She had lost the capacity to appreciate her son's feelings or to comfort him. He was exhausted, emotionally drained and felt alone. He called CaringKind, where a social worker helped him process his feelings and enrolled his mother in our Wanderer's Safety program. At the end of this call, he knew he was not alone.
Millie is caring for her husband. She not only spends her days performing traditional household chores like cooking, shopping, cleaning, she also deals with medical care, prescriptions, doctor's appointments, finances, and supervising a professional caregiver. No matter how tired or frustrated she is, there is always one more thing that needs to get done. Millie is in a support group learning how to care for herself as well as her husband. She now looks for things to distract and comfort her like reading, listening to music, and doing the daily puzzles in the newspaper. Most importantly, at CaringKind, Millie has learned to take it one day at a time.
None of this work is possible without the support of our donors and friends. We are so grateful to the foundations and individuals who generously support us. Many will be at our two Walks this fall —
September 22nd on the Coney Island Boardwalk in Brooklyn and on October 13th in Riverside Park. We hope to see you there!
For 40 years, CaringKind has been focused on providing resources for dementia caregivers. Our commitment to caregivers is our highest priority. If you or someone you know needs help remember, help is only a phone call away at 646-744-2900.
P.S. Please join me in welcoming our newest staff members:
Adina Segal, LMSW, LCSW, will strengthen our presence in the Jewish Orthodox Community in Brooklyn. Thanks to a generous grant from the Sephardic Home for the Aged Foundation she will strategically formalize relationships with the many agencies we already count as partners and introduce us to new organizations.
We also welcome Emily Prawer, our newest CaringKind Social Worker. Emily will both support clients need for care planning as well as working on our 24-hour Helpline. She will also be a conduit to the city's healthcare providers.
Sincerely,