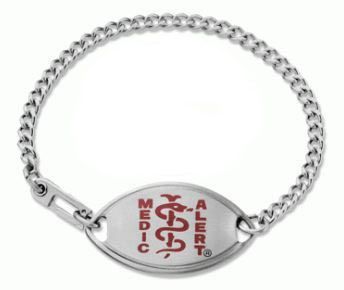 ENROLL MEMBER     ENROLL CAREGIVER
MedicAlert Foundation® provides protection through a national emergency response service for individuals living with Alzheimer's disease and related dementia who wander or have a medical emergency.
We have updated The MedicAlert®NYC Wanderer's Safety Program service to better serve you. Many people with Alzheimer's disease or a related dementia wander from their home or from afar. It is very important for a caregiver to make sure the person they care for always has some form of identification on them.
In partnership with the MedicAlert Foundation we are now offering you the protection you need to have peace of mind, the MedicAlert NYC Wanderer's Safety Program Annual Advantage Membership Plan Program.
NEW MEDICALERT PRODUCTS
---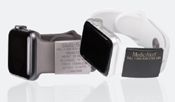 Medical ID for Apple Watch
Learn more/Purchase

Smart Medical ID Card*
Learn more/Purchase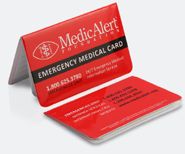 Fillable Wallet Card*
Learn more/Purchase
---
Our $49.99 Annual Advantage Plan offers you the following service:
24/7 Emergency Response Service - Trained professionals available around the clock to provide your critical information so you can receive the fastest and best care.
Emergency Health Record - All your critical information provided to us at the time of enrollment will be stored in a secure national database
Personal Profile - All your important identification details such as your physical characteristics, medical conditions, medications, or any know allergies we can provide first responders to know exactly who you are.
24/7 Wandering Support - As a member you will be part of a community network including local law enforcement who partner with CaringKind and MedicAlert® to quickly locate missing and or found persons and reunite them with a caregiver or family member.
Emergency Contact Notification - Contact the primary contacts and or additional contacts you have provided us on the membership enrollment application so that we can inform you of the persons whereabouts.
Portrait Photo - A current picture of the member is important because a picture says a thousand words.
Printable Health Profile - You can set up an online account with MedicAlert®, allowing you to edit and print your health profile. NOTE: the Advantage Plan does not include a one-time $32.99 fee for the bracelet, plus $9.95 for shipping and handling.
One year from enrollment you will receive a $49.99 Membership Renewal for the member.
NOTE:  The CAREGIVERS Advantage Plan does not include a one-time $32.99 fee for the bracelet, plus $9.95 for shipping and handling.
To update any changes to your enrollment (e.g. address, primary contacts, medication, etc), please call MedicAlert® 1-800-432-5378.
It is important that you update the member's information during this time, and you can only update if you renew the membership annually.
Keep in mind during a missing and/or found incident we communicate with the New York City Police Department, Emergency Room staff or paramedics who call inquiring information concerning the member. It is important for the MedicAlert® Emergency Response Team to have accurate and current information for all members who wear a CaringKind MedicAlert® NYC Wanderer's Safety Program identification product.
CAREGIVERS Advantage Plan $49.99
What happens to the person with Alzheimer's or a related dementia if you have an emergency and are unable to be there for them?
You can have a separate Advantage Membership Plan with your medical information for an additional cost. Your membership will be linked to the member's information in the event of an emergency. We will be able to contact the people you designate to step in and help until you are able to care again.
The MedicAlert® NYC Wanderer's Safety program is funded in part by a generous grant from the Charles and Mildred Schnurmacher Foundation, Inc.