### Engaging People with Dementia at NYC's Cultural Institutions **By Meredith Wong, Manager of connect2culture®**
---
In creating the connect2culture® program, CaringKind recognizes how invaluable arts and cultural programs are to helping people with dementia and their caregivers remain engaged with each other and with their environment. The program offers training to educators at cultural institutions who are interested in creating and leading multisensory gallery and art-making experiences for these populations. It also provides training for general museum staff to ensure a positive experience from every interaction. So, what does this mean for the program participants?

I was asked to train a group of museum educators to create a program for this audience in its permanent collection and special exhibitions. After the training, the educators had a better understanding of how to adjust their communication and manner to suit the needs and abilities of their program participants who were experiencing different stages of dementia. Most educators teaching in cultural institutions want to connect with the emotional, social, and physical abilities of the individuals in their program. Once that connection is made, the educator is able to build trust, even for a short period, in order to take the participants on a journey, using the collections and exhibitions to tell stories and inspire memories.

Seated in front of a work of art, the museum educator asks the group to take a few minutes to just look at it, perhaps to notice patterns, textures, colors, or materials. Allowing for a bit more time to take in the artwork, the educator circulates around the group, talking with some of the individuals, asking questions like, "What do you see?" confirming that, "yes, the green of the grass is bright." Caregivers also appreciate the time to look themselves, taking a moment to talk with the person they're with about connections they're making. This unique social interaction isn't a discussion about taking medication or wearing a jacket that isn't appropriate for the cold weather. It's about something outside of their immediate situation, an experience they can discover together. They're in a place where both of their voices matter and are appreciated.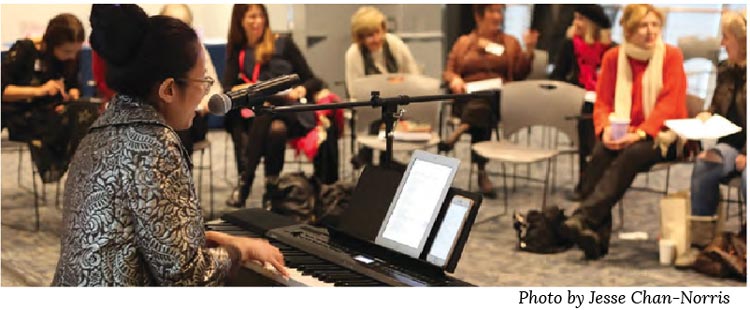 Beyond just looking and talking, these programs use multisensory experiences to encourage connections through art and other types of collections, opening doors to words and activities that may not have been accessed otherwise. Smelling spices kept in the ornate containers on display may remind someone about celebrating the Sabbath as a child with their family. Sliding a swatch of rich velvet in between their fingers while looking at a portrait of a person dressed in their fine velvet might remind a participant of wearing a favorite velvet holiday dress.
This is how the storytelling starts. Some botanic gardens, science, history, and art museums in the boroughs already have regularly scheduled programs that have been created in partnership with connect2culture. With the program's training, museum educators learn how to create enjoyable, engaging, and nonjudgmental environments and programs for their participants. Connect2culture actively seeks and develops relationships with New York City cultural organizations and institutions to make sure residents in all five boroughs have access to this type of program. It supports these programs holistically and enthusiastically, from preparing the staff to welcome these visitors to helping to develop audiences in their communities.
In addition to my expertise in developing cultural programs for people with dementia and their caregivers, I can also bring CaringKind's resources and expertise to institution staff and program participants. Support of this program through your donation says that you believe in the value of cultural programs that strengthen the abilities of people with dementia, engaging them through special interests, and creating an opportunity for caregivers to become involved in creative and new experiences. Educators trained by CaringKind's connect2culture staff are invested in offering a high-quality, engaging, and enjoyable experience, capitalizing on their participants' abilities and their institution's collections.