Loraine Halis Caregiver Conversation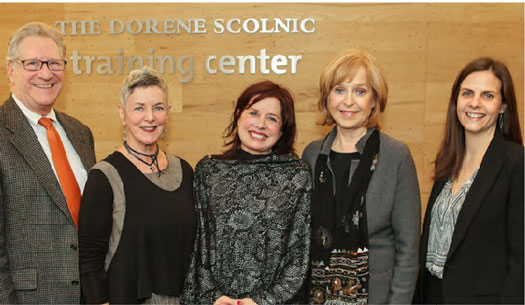 *From left: Jed A. Levine, Cathie Borrie, Dorene Scolnic, Jill Eikenberry, Anne M. Foerg*

On Wednesday, December 7th, over 50 caregivers and friends of CaringKind attended the 2nd Annual Loraine Halis Family Caregiver Conversation. This year's program featured a reading from the book The Long Hello by author Cathie Borrie and award-winning actress Jill Eikenberry, followed by Jed A. Levine moderating and Anne M. Foerg, CaringKind's Director of Social Work, joining the conversation. This annual series, designed to recognize the important role of caregivers, provides an evening of conversation and thoughtful discussion about caregiving issues.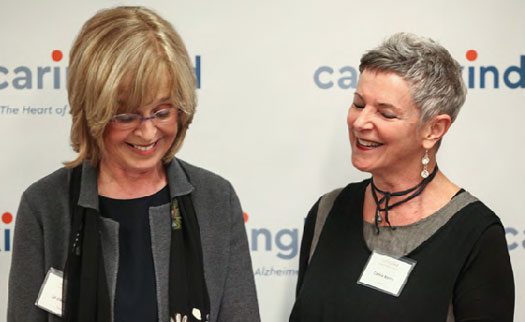 *Jill Eikenberry and Cathie Borrie read from Borrie's caregiving memoir, The Long Hello.*

Sarah Scolnic, granddaughter of Loraine Halis, for whom this program is dedicated, opened the program. On the next page are Sarah's moving remarks about her grandmother, who was cared for in the Scolnic home. Sarah is also a member of CaringKind's Junior Committee.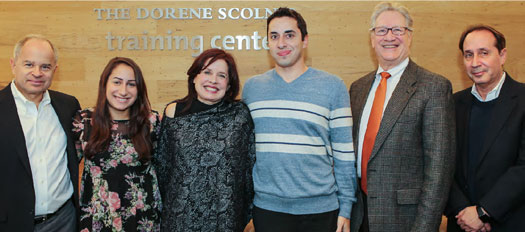 *Former CaringKind Board member Jeff Halis (left) is joined by his sister Dorene Scolnic (center left), members of the Scolnic family, and Jed A. Levine (second from right). The Halis family honored Dorene by naming The Dorene Scolnic Training Center at CaringKind.*
Sarah Scolnic's Opening Remarks at the Caregiver Conversation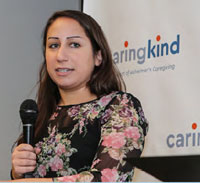 Good evening, and welcome to the 2nd Annual Loraine Halis Caregiver Conversation. I want to tell you about my grandma, or as I knew her, Bubby, and why I am excited to be here tonight.

Bubby came to live with my family when I was ten years old, after being diagnosed with Alzheimer's. Before that, she was one of those active, ideal grandmothers, who came to every birthday and school play and made the best matzo balls. Some of this I distinctly remember, but, if I'm being really honest, I mostly know this from my siblings' and parents' stories. Alzheimer's disease and my relationship with my grandmother share a common hallmark: they're both intertwined by the creation and loss of memories.

I remember the day my dad got the call that Bubby fell and have a few clear memories of the early days of her confusion and agitation. But I was lucky to be shielded from the 'bad moments,' as we like to call them. When a disease like Alzheimer's hits a family, you have to have humor, and I believe, as the baby of the family, the timing of Bubby's move was sort of impeccable. She moved in after all my siblings had left, so the house never felt as quiet as I had hoped it would be when I was the last child in the house. We spent every day together. She was almost always silent or quiet, especially after she lost most of her speech, but every day when I came home from school I sat next to her on the couch and either did my homework or cuddled up to take a nap with her. As I recall my memories, she was always there. We would quite literally hang with and onto each other often.

When she first moved in, I didn't fully understand the disease and how long the progression could really take. I wouldn't let her fall asleep until she said 'I love you' back to me. Eventually, I gave this up, as many of you have had to give up your expectations of your loved ones. What also left around the same time were my childhood memories of Bubby being that active grandmother. To be honest, the only Bubby I clearly remember is the one that had Alzheimer's. The one who would always cuddle me after school in silence.

When I used to think about caregiving I thought of my mom, Bubby's daughter, who cared for her for many years, and the great nurses that worked with her. But what I now believe, after being involved with CaringKind and seeing the work here, is that all people surrounding those with Alzheimer's.

The disease is difficult for any family member or friend who is around, not just the day-to-day nurses or the primary caregiver. We all have love and care to give and a reason to be here tonight. So, I am excited that we are all together once again this year to talk about how to best give our support to each other and to our loved ones who are struggling with this disease. Thank you.
---
### "Ralph Albert Blakelock: The Great Mad Genius Returns"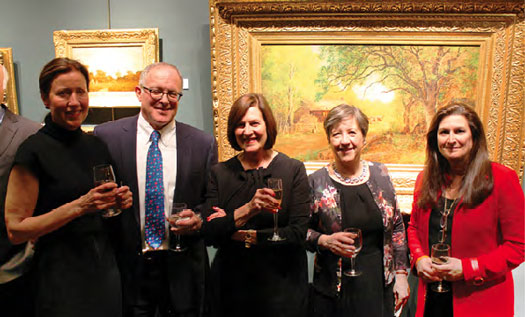 *From left: Diane Salerno; Louis M. Salerno, CaringKind Board member and owner of Questroyal Fine Art, LLC; Lou-Ellen Barkan, CaringKind President & CEO; Susan V. Kayser, Esq., CaringKind Board member emeritus; Marianne Dziuba-Fiore, CaringKind Board member*

On Thursday, November 10th, Louis M. Salerno, CaringKind Board member and owner of Questroyal Fine Art, LLC, held a private opening reception for the exhibit, "Ralph Albert Blakelock: The Great Mad Genius Returns," to benefit CaringKind. The sequel to a renowned 2005 exhibition, this comprehensive and groundbreaking exhibit delved deeper into the mystifying psyche of America's greatest visionary painter. With 125 works on view, the event attracted art lovers worldwide and has raised over $40,000 for CaringKind's free programs and services.