### Celebrating Our Differences **By Niurqui "Nikki" Mariano, Manager of Healthcare Outreach**
---
You might come across our African American Outreach Manager at a church in Harlem or our Latino Outreach Manager in a Bronx senior center. Don't be surprised to bump into our Chinese Outreach Manager at a Queens library in Flushing, or if you're a healthcare provider you might sit in on one of my next presentations. With MetroCard in hand, our Diversity and Outreach team travels throughout the five boroughs with one common goal: to educate the community about Alzheimer's disease and about CaringKind's free programs and services.

*From left: Jed A. Levine and Niurqui Mariano are joined by Elizabeth Berberian, New York State Department of Health; Julio Gonzalez, R.A.I.N.; and Juan Gabriel DeJesus, VNS, at the 2nd Annual Hispanic Alzheimer's Conference reception hosted at CaringKind on November 18th.*

In comparison to non-Hispanic whites, African Americans and Latinos are more likely to develop Alzheimer's disease, but are less likely to get an early diagnosis, which delays treatment and care planning. Language barriers, cultural beliefs, stigmas, and myths associated with the disease can oftentimes prevent caregivers from reaching out for help. This is why we don't sit and wait for you to reach out to us; we bring awareness about our services to you, in your own familiar community.

CaringKind recognizes that we serve a city of great diversity. Each group has its own unique needs, and our professional staff is representative of the city we serve. Our team is multilingual and can provide presentations, workshops, and trainings not only in English, but also in Spanish, Mandarin, and Cantonese. Our Spanish and Chinese newsletters combined are mailed to over 7,000 homes. Our annual Chinese caregiver's trip is well attended and provides caregivers with an opportunity to connect with other families who share similar experiences caring for a relative with Alzheimer's or dementia. For six years in a row the African American Outreach program and the Healthcare Outreach program have partnered with Empire State Medical Association to educate African American physicians about Alzheimer's disease and our services. Our Chinese Outreach program and Healthcare Outreach program have partnered with VNS Asian Outreach to educate Asian physicians.

Over the years we've partnered with faith-based organizations, medical associations, farmers markets, local community agencies, community hospitals, and other nonprofits. These strong partnerships aid us in deepening our ties to the community and in expanding our outreach efforts, because, just like the caregivers we serve, we too can't do this alone.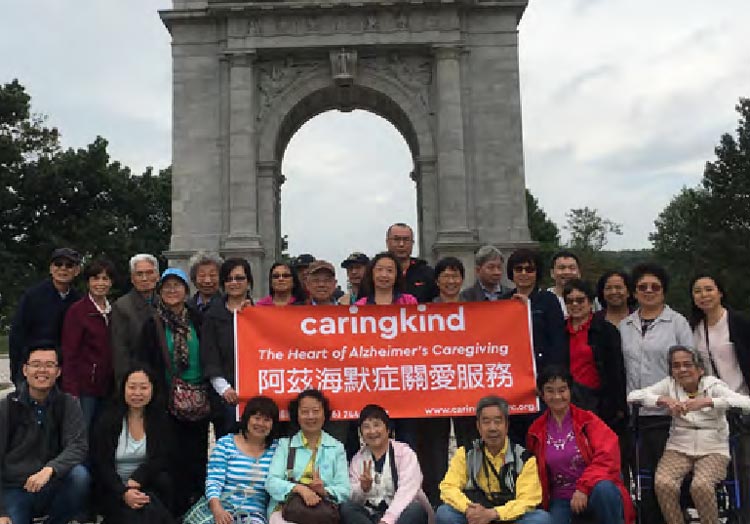 *Caregivers stopped by the National Memorial Arch at the Valley Forge National Historical Park in Pennsylvania during this year's annual Chinese caregiver's trip on September 28th.*

New York City is a big city and we still have a lot of work to do. I look forward to the day I no longer hear caregivers say "I wish I would've known about your services when I cared for my loved one." With your help this can one day change. Every dollar you donate to CaringKind stays here in New York City and helps expand our outreach efforts. They say the first step towards change is awareness. Help us continue to spread awareness about this devastating disease; it's our only hope for change and making more New Yorkers aware of the free resources and services at CaringKind.
---
### Brain Health Day Brain Health Day 2016 was organized by CaringKind, the Asian Health & Social Service Council (AHSSC) and the Chinese Consolidated Benevolent Association (CCBA). The event, held on November 9th at the CCBA in Chinatown, was very successful, with approximately 350 seniors and caregivers from all five boroughs in attendance. Nineteen organizations sponsored the event, and a total of 30 community healthcare and social service agencies participated and introduced their services during the event. The goals of Brain Health Day were to raise awareness of Alzheimer's disease and related dementias, to introduce available community healthcare and social service resources to the senior members and caregivers, to promote CaringKind's programs and services and extend CaringKind's reach in the Chinese community, and to enhance the well-being of seniors in the Chinese community.

A health workshop about brain function and Alzheimer's disease was conducted by Weijing Shi, CaringKind's Manager of Chinese Outreach, and Andrew Wu, a SUNY Downstate medical student. Another educational workshop about Legal & Financial Planning including the importance of advance directives was led by Pauline Yeung of Grimaldi & Yeung LLP, an attorney specializing in elder law, as well as the Secretary of CaringKind's Board of Directors. Vendor educational games, a raffle, entertainment, and healthy food also were enjoyed.

Left Photo: From left: Lucia Sau Chan, Mount Sinai Beth Israel; Weijing Shi, CaringKind; Pauline Yeung-Ha, Grimaldi & Yeung LLP and
Secretary of the CaringKind Board of Directors; Shirley Huang, Royal Care NYC; and Anderson Dong, Healthfirst; at Brain Health Day.
Center Photo: Roberto Reyes (right), CaringKind Manager of Latino Outreach, is joined by Stephan Giordani (left), Carmen Pastor (center left) and Mary Theresa Vasquez (center right), all of Fuerza Contra Alzheimer, at the 2nd Annual National Hispanic Alzheimer's Conference. Right Photo: Jed A. Levine, Executive Vice President, Director of Programs & Services of CaringKind, and Carmen Pastor, President of Fuerza Contra Alzheimer, at a pre-conference reception hosted at CaringKind on November 18th.
Hispanic Conference on Alzheimer's
On November 19th, CaringKind partnered with Fuerza Contra Alzheimer to bring the 2nd Annual National Hispanic Alzheimer's Conference to New York City. The free conference was held at the Brookdale Center for Healthy Aging in the heart of "El Barrio," and brought together doctors distinguished in various disciplines that work directly in the Latino community. The physicians and researchers covered the latest in patient and caregiver care currently taking place.
The purpose was to inform, educate, and train all who are involved in the care of persons with Alzheimer's disease. The conference provided a unique forum for the elderly and caregivers to discuss important issues on a one-on-one basis, offering a great opportunity to network with knowledgeable experts and those in need.
Among some of the distinguished speakers and guests were Elizabeth Berberian, New York State Health Department for the Aging; keynote speaker José Luchsinger, M.D., MPH, Columbia University Medical Center; and international panel moderator Diana Morales, M.D., MPH, Assistant Professor and Associate Director at the School of Behavioral & Brain Science of CAIMED, Ponce, Puerto Rico.