CaringKind closed out 2016 with media coverage in one of the largest, most widely read news outlets in the country. USA Today featured two incredible articles written by Lou-Ellen Barkan on Alzheimer's and dementia caregiving in a special "Fighting Alzheimer's" supplement.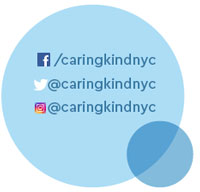 ---
One article discussed the role of caring in the absence of a cure, while the other provided common sense tips on how to ease the emotional, physical, and financial burdens of caregiving. These articles appeared both in print and online reaching over 22 million readers (and caregivers) across the nation.

Lou-Ellen was also featured on an Eyewitness News Up Close (WABC - Channel 7) segment on Alzheimer's. The Up Close program invites experts to discuss important issues impacting our New York community. Hosted by journalist and CaringKind friend Bill Ritter, Lou-Ellen discussed the changing landscape of Alzheimer's and dementia and the role of caregiving, alongside Dr. Hillel Grossman, Medical Director of the Clinical Core at the Alzheimer's Disease Research Center at Mount Sinai. (See Dr. Grossmans' article about memory assessments on the following page.)

CaringKind was proud to have 100 runners who raised over $400,000 through their participation in the 2016 TCS New York City Marathon. News 4 New York (WNBC - Channel 4) interviewed four of our runners in a live morning segment that took place at the starting line! The runners, Jennifer Balka, Senior Associate of Constituent Events at CaringKind, Nicole Henn, Roe Mercurio, and Lauren Napolitano, shared their personal stories about caregiving and what CaringKind means to them.

With November marking National Family Caregiver Month, the New York Nonprofit Daily newsletter noted some of the incredible growth and expansion that's taken place this year at CaringKind — highlighting increases in our social work and other professional staff, resources for the Asian community, resources throughout the outer boroughs, and cultural program expansion.

The Everyday Heroes Project, a news site that spotlights nonprofits changing their communities, also featured CaringKind in November. Quoting Lou-Ellen, the article listed our caregiving services including support groups, counseling, and education and training seminars. CaringKind was excited to be included in this group of organizations and individuals working in collaboration to build a better world.

CaringKind has continued to support awareness surrounding Alzheimer's and dementia and the challenges unique to the Hispanic community. Featured in over 100 local events websites and calendars to great success, CaringKind participated in the 2nd Annual National Hispanic Alzheimer's Conference that took place in November and kicked off our very first Spanish-language Understanding Dementia seminar in December.

Lou-Ellen has continued to examine the most important issues confronting people living with dementia and those who care for them in "Care Chronicle" – a monthly column that runs in several local newspapers, including Manhattan Express, Chelsea Now, The Bronx Times, Caribbean Life, East Villager, The Villager, Times Ledger, Brooklyn Paper, and Downtown Express. In recent columns, she has discussed the most common barriers to getting help, as well as tips for caregivers, family, and friends during the (often stressful) holiday season. WOR Radio (710 AM) interviewed Lou-Ellen in a segment that expanded on tips for the holidays that touched on some of the most important and helpful ways we can support caregivers and families during the winter months.

Last but not least, we were excited to close out 2016 sharing the news in several outlets, including Guest of a Guest, CBS New York, and NY 1, of a great fundraising event organized by Board member Anne McBride Schreiber. Diamonds and Wine for Good brought together jeweler Sanjay Kasliwal and winemaker Crosby Roamann (a collaboration between Anne's son Sean W. McBride and his wife Juliana), who showcased diamonds and wine for purchase — with ten percent of proceeds going to CaringKind. Many thanks to all that participated!