A Year of Transition, A Year of Service

By Matt Kudish, Senior Vice President of Caregiver Services
---
For over 30 years, CaringKind has been New York City's central address for Alzheimer's and dementia care and support. And this has never been truer than it is now, following our disaffiliation from the national Alzheimer's Association in December 2015.

No one knows New York better than New Yorkers. By returning to our roots as a local New York City-based nonprofit, our clients receive the highest caliber information, education and support from our expert staff, all of whom are based right here in New York City and truly understand the complexities of caring for a person with dementia in this complex, urban environment.

We are in every borough, collaborating with our long-standing community partners and forging new relationships throughout the elder care network; visiting service providers from adult day programs to respite organizations, and to long-term care facilities in order to better understand the myriad ways in which care is being provided throughout the city; and staying on top of the ever-changing complex network of systems of care across New York City, including benefits and entitlements such as Medicaid.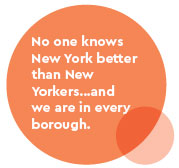 Whether you are speaking with a Helpline Specialist, meeting with a social worker, attending an educational seminar, training program, support group, or participating in our Early Stage Center, no one understands how to best support you on your journey more than the dedicated staff of CaringKind.

To be sure, the full array of programs and services we offer — all available free of charge — remain not only intact but are more vibrant and active than ever. And our staff is not only as committed as ever, but continues to grow to ensure that we are prepared to meet the ever-increasing demands of New Yorkers affected by a dementia diagnosis. In the last year, thanks to the generosity of our supporters, we have grown significantly, adding even more program staff to support our work with clients.

We have increased the number of Helpline Specialists available to answer your calls to our 24-hour Helpline. We have added additional social workers to respond to your more complex emotional and concrete needs, assist you in developing a long-term plan, and address the emotional impact of seeing someone you care for decline. We have expanded more deeply into Brooklyn, Queens, Staten Island, and, soon, the Bronx, offering many of our programs and services in your local community. We are proud to be offering our education meetings in more neighborhoods and languages than ever before, making it even easier for you access the information you need without having to travel far. Our Training staff has expanded to provide even more trainings for family and professional caregivers in English and Spanish and, for the first time, trainings in both Mandarin and Cantonese. In our Early Stage Center, we have added a third social worker, dramatically increasing the number of programs offered each week, and the number of clients served. Our support group network continues to offer over 90 groups every month throughout every borough, with new groups being started regularly across the city.

Over 15,000 New Yorkers walk through our doors each year, and even more are now accessing our robust programs and services in their local communities. But the number of people affected by dementia in New York City is constantly growing.

Very often we hear from our clients, "I wish I had called you sooner." With your help we can increase public awareness about the invaluable resources available through CaringKind and ensure that every New Yorker in need of our assistance knows that all it takes to connect with us is one call to our 24-hour Helpline. It may be the most important call you ever make.