Competing Paradigms in Alzheimer's Research: Are We Closer to a Cure?
James Campbell
James Campbell is a freelance writer based in New York City. He holds an MA in International Affairs from The New School and has written for various academic, non-profit and human rights organizations.
---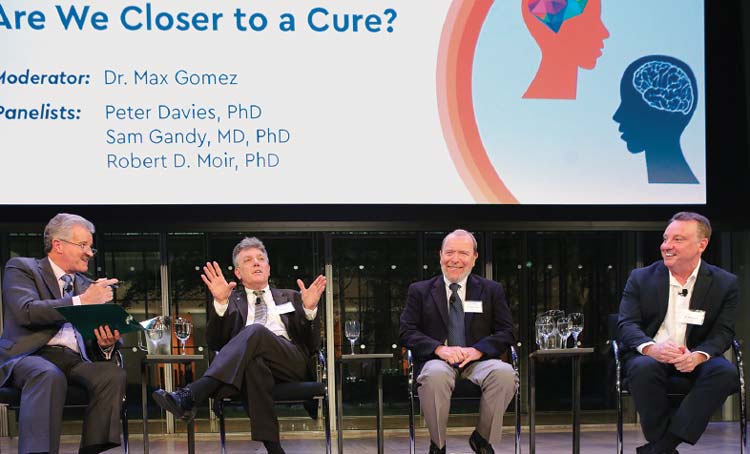 (From left) Dr. Max Gomez, Dr. Sam Gandy, Dr. Peter Davies, Dr. Robert Moir
On an unseasonably warm evening in late October, CaringKind brought some of the top minds in Alzheimer's research to the Times Center in New York City for its 30th Annual Research Meeting. The event, Competing Paradigms in Alzheimer's Research: Are We Closer to a Cure?, provided a rare opportunity to see experts in the fields of medicine and science take stock of what we know about Alzheimer's disease and present a glimpse into what the future might hold.
Lou-Ellen Barkan, CaringKind's President and CEO and a self-proclaimed "science groupie" kicked off the event by running through new hypotheses related to Alzheimer's: from the role of genetics and sleep to the possibility of diagnosing the disease though smell tests and retinal exams. She then turned the spotlight to the event moderator, Dr. Max Gomez, an award-winning WCBS-TV medical reporter and regular presence at CaringKind events, who provided structure and occasional levity to what at times became a heated debate.
The expert panel was comprised of:
Dr. Sam Gandy, a professor of Alzheimer's disease research, neurology and psychiatry at Mount Sinai. Dr. Gandy's expertise is in amyloid, a sticky substance that forms in the brain of patients with Alzheimer's disease, and is thought by many to be a cause of the disease.
Dr. Robert Moir holds assistant professor positions at both Harvard Medical School and Massachusetts General Hospital. At Massachusetts General, Dr. Moir heads a program dedicated to investigating the biochemical and cellular mechanisms that lead to Alzheimer's pathology. His recent finding, which suggests amyloid deposition is an innate response to perceived infection in the brain, is regularly cited as among 2016's top advances in neurology.
Dr. Peter Davies, the Director of the Litwin-Zucker Center for Research on Disease at Northwell Health's Feinstein institute for Medical Research. For over 40 years, Dr. Davies' research has focused on the biochemistry of Alzheimer's disease and the development of new treatments and diagnostic tests.
The conversation immediately turned to amyloid, one of the major areas of dispute in Alzheimer's research. Dr. Gandy began by laying out how his research points to a connection between amyloid production and inflammation. Dr. Davies immediately stated his opposition to an amyloid-centered approach. "Five years ago," he said, "it was amyloid or nothing. But now, it's really amyloid, tangles [of proteins] and many other possibilities."
Dr. Moir provided an alternative take. His research builds on the role that infections play in the development of Alzheimer's. This belief has roots dating back to Alois Alzheimer, the doctor credited with first identifying the disease.
While Dr. Davies and Dr. Gandy came from radically different perspectives, Dr. Moir helpfully expressed connections between amyloid, inflammation and Alzheimer's through simile: "Amyloid is like the match that lights the brush fire that sets the forest on fire. Once the thing is going, the real damage is done by inflammation."
CaringKind's Executive Vice President, Jed Levine, concluded the night by echoing the panel's one area of unanimous agreement: we are in promising times but legislators need to be reminded that "Alzheimer's and dementia must remain a national, state and local priority."