Meredith Wong,
Manager of Connect2culture®
---
Cultural Resources in NYC
Planning a visit to a museum can be a challenge. How to get there? What are transportation options? Where to go once you've arrived? When trying to answer these and similar questions, caregivers may decide not to visit a cultural institution or participate in a program simply because it's logistically difficult. To offset this, museums try to make their institutions as accessible as possible. They work hard to make both the physical facility and their programs easy to navigate and enjoy.
Prior to visiting an art or history museum, taking a walk around a botanical garden, or attending a music performance, caregivers want to know who to ask about accessibility and the resources the institution has to help during a visit. The first stop for answers may be Access Program Coordinators/Managers, who help the caregivers prepare for a visit by providing details on entry and security processes, the availability of assistive listening devices or hearing loops for someone with hearing loss and, where and when to arrive for scheduled programs.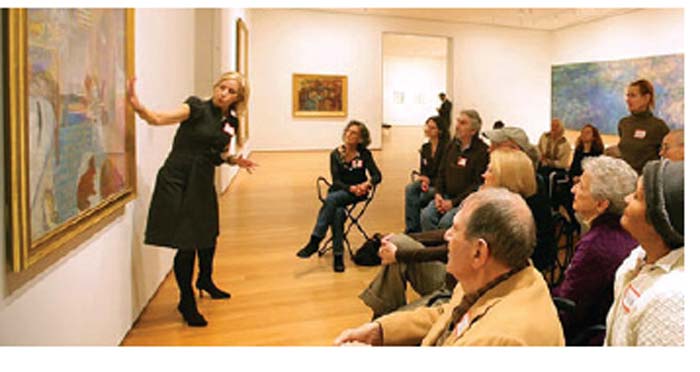 Museum educators may also enhance a visit with sensory materials; larger reproductions of artwork which can be touched, or textile and fragrance samples to make the experience more concrete for someone with dementia. They may have pre-visit materials to prepare, including floor maps of the galleries, and suggestions for less busy times to visit. These simple tips can create a more enjoyable visit.
Cultural institutions learn from visitors how to be more welcoming and supportive. They post clearer signage to orient visitors to the space. They integrate accessible technology into the visitor experience and they create programs that make the most of participants' abilities. Guided programs for people with dementia and caregivers provide an opportunity for both to explore and discover together. The museum's goal is to help the visitor make connections and use every asset of the institution to access and participate in programs. And, just as exploring art can be rewarding, interactive visits to concerts, dance workshops, and botanical gardens can also be enriching experiences.
Our city offers wonderful opportunities. Audience members at Lincoln Center Moments or Orpheus Reflections might be inspired to move or clap during the music performance. Participants in AileyDance workshops are welcome to move and dance, inspired by different types of music and dance styles. The Memory Tours at the Brooklyn Botanic Gardens integrate leisurely and sensory-rich walking tours through areas of their gardens so that participants can experience seasonal growth.
The city's art museums have long offered programs that combine gallery explorations with art making. From the Metropolitan Museum of Art to the Brooklyn Museum and the Jewish Museum, New York City is filled with cultural resources and institutions working to engage individuals and families impacted by a dementia diagnosis.
We hope you will take the opportunity to enjoy these experiences, many of which have been informed by CaringKind's connect2culture® partnerships. And, if you have any questions, call CaringKind's 24-hour Helpline at 646-744-2900. We are happy to answer questions and provide information. Happy Visiting!