Jed A. Levine
President & CEO
---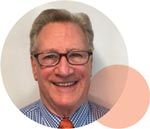 Dear Readers,
Dear Reader,
These days, like many of you, I'm a family caregiver. In addition to my job as CaringKind's CEO and President, I am CEO, CFO and COO, Executive Assistant, nurse, pharmacy tech, and chief cook and bottle washer at home. And I'm in charge of laundry! It's exhausting, but it's helped me know when to ask for help.
Caring for a relative or friend with dementia requires many strengths and skills. Some are transferable from other parts of our life, but others are new and challenging. Caregivers have a lot to learn, and like any other job, they need an orientation and basic education, followed by in-depth training and practice.
We are pleased to announce that we are now offering "Beginnings at CaringKind", a socialization program for people in the early stages of dementia. Beginnings will meet two days a week. There is a fee for attending.
If you are interested in learning more, please call the Helpline at 646-744-2900.
Good coaches help, too. And because Alzheimer's, Lewy Body Dementia and Frontal Temporal Dementia progress over time, caregivers need to keep up their studies. What worked yesterday might not work today.
To complicate matters, the job comes with a huge emotional and psychological price. The person you care for is changing in ways that seem unimaginable. It's painful, sad, frustrating and hard to manage. To help, CaringKind has been building and sharing our Caregiver toolkit filled with specialized programs, services and resources for over 40 years.
Our mission is to provide the support and guidance caregivers need when they need it. Our goal is to fill your toolbox and keep it up to date with supplies that fit your unique problems and concerns today and as the disease progresses. I think of CaringKind as the Home Depot for caregivers.
The best place to start is by calling our 24-hour Helpline: 646-744-2900. These are some of the ways we can help:
If you need help figuring out the long-term care system, come to a Legal & Financial Seminar, attend a Medicaid Home Care Meeting, and speak to one of our social workers.

Are you concerned about wandering, or has your relative has gotten lost? Enroll in our MedicAlert Wanderer's Safety Program®.

Are you looking for a place to feel less alone, to work through the complex and frustrating feelings about caregiving? Do you need a place where you are understood? Join a support group.

Are you looking for a way to engage in the cultural life of New York City? Attend one of our connect2culture® programs, either at a museum, historical society, botanical garden, library, or performing arts center.

Do you want to learn more about how to engage your relative, to communicate better, and to truly understand the experience of having dementia? Are you seeking information about providing care? Attend a Family Caregiver Workshop.
We know that caregivers have a diverse set of needs and challenges, so we offer different educational programs each month. In the upcoming months we will be talking about Diabetes and Dementia, Dealing with Family Conflict, Behavioral Symptoms of Dementia, Lewy Body Dementia, Frontal Temporal Degeneration, and more. To register for these programs, please call our 24-hour Helpline at 646-744-2900.
Alzheimer's and other dementing illnesses require a well-stocked toolbox, but just as important, as you can't build a house alone, you can't manage caregiving alone.
CaringKind is here for you. Just call 646-744-2900 or visit our website at
www.caringkindnyc.org.
Sincerely,