Seize an Opportunity of a Lifetime

Christian Doucette,
Director of Community Engagement
---
In 1996, I was fresh out of college when a friend asked me to ride my beat-up bike 250 miles, from Philadelphia to Washington, DC, to raise money and awareness for HIV/AIDS. Always up for an adventure, I enthusiastically and confidently agreed! In the next breath, when he informed me that I had to raise $1,600 for the privilege, I was less confident. At the time, I was burdened with more than $30,000 in student loans and working for a nonprofit earning $18,000 a year. I didn't want to trouble my working-class family, my friends had no money to spare, and I didn't know a single wealthy person. Turns out, I had nothing to worry about! When I wrote a letter to everyone I knew about the challenge I was taking on, I was stunned at the response – people were so enthusiastic about my endeavor and I exceeded my fundraising goal within just a few weeks! On race day, I crested every hill between Philadelphia and DC with pride. (And believe me - there are more hills between those two cities than you realize.)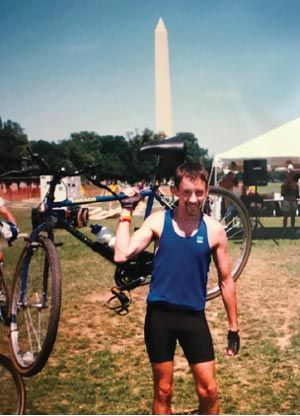 Twenty years later, I've come full circle. As the Director of Community Engagement for CaringKind, it's now my job to help people seize an opportunity of a lifetime by challenging themselves to complete a feat of endurance while supporting a noble cause – helping people with Alzheimer's and dementia and their caregivers. I'm thrilled to announce registration is now open for the United Airlines NYC Half Marathon, the TD Five Boro Bike Tour, and the Lifetime NYC Triathlon! With professional coaching support from Enhance Sports and Empire Tri Club, the members of our Athletes to End Alzheimer's® team are prepared to meet and exceed their personal best.
So, as we usher in the new year, are you looking for another good reason to get in shape? Do you need a little extra motivation to hold you accountable? Maybe you're looking for a new way to help combat Alzheimer's and dementia. No matter the reason, the Athletes to End Alzheimer's team is waiting for you. The number of entries that we have in these events is limited, so if you're interested in participating, now is the time to act!
Please feel free to call me anytime with questions at 646-744-2955. You can also reach me by email at cdoucette@caringkindnyc.org. I look forward to hearing from you!