Dear Helpline,

My husband was a supervisor at his firm. Recently, they convinced him to retire. Now, he is restless and gets up early everyday thinking he has to get ready for work. He is in an early stage of dementia and I don't think that he would be comfortable in a senior center considering his educational and professional background.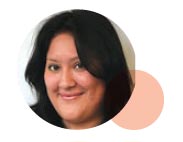 Stephanie Aragon
Director of Helpline
---
"I find myself worn out and short tempered; I am short-changing everybody. I run over to my parents' apartment on many occasions which makes me constantly late for work. My thirteen-year-old daughter is sullen and resentful, yet I have little time and patience for her needs."

"My mother refuses to take a bath or even change her underwear except for the times that we have a medical appointment and I say we must see the doctor."

"We didn't know why my father was acting so secretive and making excuses for us not to visit. Recently, I found out he sent two sets of checks to each of the people to whom my mother had made bequests in her will. I was venting to a friend of mine, whose mother had died six months before from Alzheimer's, and she said, "That's Alzheimer's!" No one to

whom I had been complaining for months, not even my former classmate who is a psychiatrist, made that suggestion. I don't know where to begin."

Those are some examples of the 10,000 calls that the Helpline responded to in 2018. There is a common, underlying theme to most Helpline calls: I don't know what to do. Helpline Specialists often speak to a family member who has the caregiving role thrust upon him or

her. He or she may go through myriad emotions: fear, resentment, anger, helplessness and loneliness, to name a few.

No one should ever have to be alone throughout the caregiving journey. CaringKind is here for you. Helpline Specialists gently ask a few questions to get a better understanding of your current situation. They will ascertain what is needed, for example, a diagnosis, a home health aide, or an adult day care center. The issue might concern the behavior of the person with dementia who already has a diagnosis. Now he is up at night keeping the whole family awake. Other situations may concern refusal to bathe or eat. The person might have gotten out of the house and wandered off. The difficulty might involve temper tantrums, or inappropriate sexual behavior. Perhaps the caregiver just needs to talk about the stress he or she is under, which might be related to being a member of the sandwich generation caught between the needs of her children and her parent. No matter what the need is, CaringKind is here to offer support. Reach out to us anytime of day or night at 646-744-2900 or helpline@caringkindnyc.org.