Connect2culture® creates and promotes engaging non-clinical opportunities for people living with dementia together with their caregivers to stimulate conversation, memories, and connections through shared cultural experiences. These programs include garden walks in botanical gardens, dance workshops, music performances, and gallery talks. Many also encompass interactive activities such as planting, art and music making, and dance/movement that are all related to the exhibition or collection. An initiative to encourage cultural organizations to implement caregiver-only programs is also underway.
View opportunities with our Cultural Partners
For a calendar of programs citywide, please click here.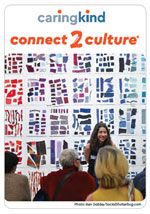 Family Brochure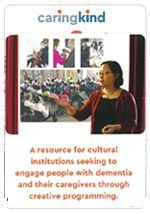 Institution Brochure
Upcoming Events
---
Movement Speaks® Virtual Program
English workshops | PDF Flyer
October 5, 2021 - March 1, 2022 | 2-3pm Monthly, every first Tuesday

Spanish workshops | PDF Flyer
October 19, 2021 - March 15, 2022 | 2-3pm Monthly, every third Tuesday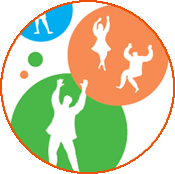 Dances for a Variable Population offers classes in Spanish and English for individuals living with Alzheimer's and dementia together with their care partners. Have fun exploring different styles of dance and movement. No dance experience required.
To register or for more information, please contact CaringKind's Helpline at 646-744-2900.
---
Cultural Partners

Ailey Arts In Education
AileyDance Workshops
Caregivers are invited to participate in a unique opportunity to experience the joy, contagious energy, and excitement of dance!
Virtual program
Click here
CaringKind Helpline
Helpline@caringkindnyc.org
646-744-2900

American Folk Art Museum
Folk Art Reflections
Visit website
An interactive and discussion-based program that brings the world of folk art to life through meaningful conversation.
Virtual Program
Click here
Rachel Rosen
RRosen@folkartmuseum.org
212-595-9533 ext. 381

Arts & Minds

Visit website
At El Museo del Barrio and The Metropolitan Museum of Art (en español); The New-York Historical Society, Bard Graduate Center, Museum of the City of New York, and Harlem Pop-Ups with The Studio Museum in Harlem.
Nellie Escalante
nescalante@artsandminds.org
646-755-3726

Guggenheim Museum
Guggenheim Museum Tours
Visit website
The Museum offers group tours for individuals with dementia and their caregivers in all exhibitions by request.


Emily Johnson or Kai-Ti Kao
groupsales@guggenheim.org
212-423-3636

Brooklyn Botanic Gardens
Seasonal Highlights Memory Tour
Visit website
Delight in seasonal highlights. Enjoy a sensory experience. Connect with nature. Engage in hands-on activity.
Virtual Program
Click here
Joanne D'Auria
JDauria@bbg.org
718-623-7267

Brooklyn Museum
Brooklyn Afternoons
Visit website
Invites individuals with memory loss and their caregivers to explore the museum's collection to enjoy conversation, works of art, and each other's company.
Allison Day
Access@brooklynmuseum.org
718-501-6227

Brooklyn Public Library

Visit website
Please contact the Library for upcoming programs and classes.
Judith Vigo
JVigo@bklynlibrary.org
718-230-1760 ext. 51141

Intrepid Sea, Air & Space Museum
Stories Within
Visit website
Conversation and storytelling through multi-sensory experiences. Small groups explore the Museum to reflect on the history of the ship, including those that served aboard.
Charlotte Martin
Access@intrepidmuseum.org
646-381-5158

Jewish Museum
JM Journeys
Visit website
Make personal connections with original works of art through discussion, art making, and multi-sensory activities.


Samantha Schott
access@thejm.org
212-423-3289

Lincoln Center
Lincoln Center Moments
Visit website
Lincoln Center Moments is a free performance-based program specially designed for individuals with dementia and their caregivers.
Virtual Program
Click here
Accessibility at Lincoln Center
access@lincolncenter.org
212-875-5375

Memory Arts Café

Visit website
A series of free art events for people living with Alzheimer's disease, their caregivers and the general public and is co-produced by New York Memory Center and the Alzheimer's Poetry Project.

Gary Glazner
jbrown@nymemorycenter.org
718-499-7701

The Metropolitan Museum of Art, The Met Fifth Avenue & The Met Cloisters

Visit website
A participatory event that includes discussions, handling sessions, art making, and other multi-sensory activities.
Rebecca McGinnis, Marie Clapot, Christina Vanech
access@metmuseum.org
212-650-2010

Museum of Modern Art
Meet Me at MoMA
Visit website
This program provides a forum for dialogue for people with dementia and their care partners through looking at art.


Virtual Program
Click here
Lara Schweller
accessprograms@moma.org
212-408-6447

Orpheus Chamber Orchestra
Orpheus Reflections
Visit website
A program designed to bring the healing power of music to those living with Alzheimer's Disease and other forms of dementia and their caregivers. With training and outreach Support by CaringKind.

Virtual Program
Click here
Angela Gehring
agehring@orpheusnyc.org
212-896-1702

Queens Museum
Creative Imagination
Program is by request.
Adult programs provide opportunities to engage with art in a safe space for adults with special needs. These programs promote social inclusion and self-determination.


Kimaada Le Gendre
klegendre@queensmuseum.org

Rhythm Break Cares
Tea Dance Social and Dance for Dementia
Visit website
Join us for an afternoon of socializing while experiencing the healing power of music, dance and touch. There is a suggested donation for the program.
Charlene Wang
rbcares@gmail.com
646-742-9014

The Rubin Museum of Art
Mindful Connections
Visit website
Explores the transformative power of the art and culture of the Himalayan Asian region, promotes conversation and engagement with works of art and one another.

Jamie Lawyer
access@rubinmuseum.org
212-620-5000 ext. 319

The Unforgettables Chorus


Visit website
The Unforgettables is a chorus for people living with dementia and their family member caregivers. The chorus rehearses and performs in concerts several times a year.